CARSON CITY COUNCILMAN JAWANE HILTON TO BE HONORED AT THE 4TH ANNUAL "40 UNDER 40" AWARDS, A CELEBRATION OF EMERGING CIVIC LEADERS IN LOS ANGELES COUNTY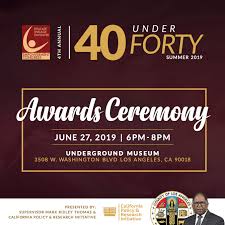 | | |
| --- | --- |
| Contact | Tonya McKenzie |
| Telephone | (424) 262-1920 |
| Cell | (510) 589-3764 |
| Email | tmckenzie@sandandshores.com |
| Website | www.sandandhores.com |
For Immediate Release
Los Angeles, California, USA – June 5, 2019
Jawane Hilton, a native of Carson, California was elected to Carson City Council in June 2015 and appointed as Mayor Pro Tem on January 23, 2018. As the founder and senior pastor at City on the Hill Church in Carson, Councilman Hilton founded a school that focuses on helping at-risk youth. For the city that he was born and raised in, he has been busy bringing people together to get things done. Jawane has broken ground on a new veteran housing complex that will have 70 units, voted to approve and start construction on a live-work space for art students, and negotiated the 157 acre Cal Compact site that will be turned into a high-end outlet.
Based on enablement and engagement, The Empowerment Congress was founded in 1992 by Mark Ridley-Thomas. At the time, he was the Los Angeles City Councilman. The intention and continued mission of the organization is to educate and connect the communities of LA County to the resources and opportunities available to be activated in the political process and ability to make change. The Emerging Civic Leaders committee engages leaders under the age of 40 in advocacy, philanthropy and developing a pipeline of dedicated community advocates throughout LA County. Councilman Hilton has been named by them as one of the 40 based on the stellar work that he has done in the Carson community and political arena. His achievements and accomplishments show his pride in the city and lasting legacy in Southern California politics.
"It's great when other people see your worth and your work. I am honored and humbled to know that others acknowledge the hard work and dedication that I have put into fulfilling my promise to the constituents of Carson, California." ~Councilman Jawane Hilton
The 4th Annual 40-Under-40 event is taking place on Thursday, June 27, 2019, at 6pm-8pm at the Underground Museum. For more information about The Empowerment Congress or to attend the event, visit http://empowermentcongress.org/.
City Councilman Jawane Hilton (http://ci.carson.ca.us/Government/Council_Hilton.aspx) was born and raised in Carson, CA. Jawane holds a Bachelor's Degree from California State University, Northridge and a Masters of Divinity Degree from the Haggard School of Theology (HST) at Azusa Pacific University. He is also a member of Kappa Alpha Psi Fraternity, Inc.
# # #
If you would like more information about this topic, please contact Tonya McKenzie at (424) 262-1920 or email at tmckenzie@sandandshores.com.
award carson councilman empowerment congress empowerment jawane hilton honors politician