7 PR Takeaways From Naomi Osaka's Story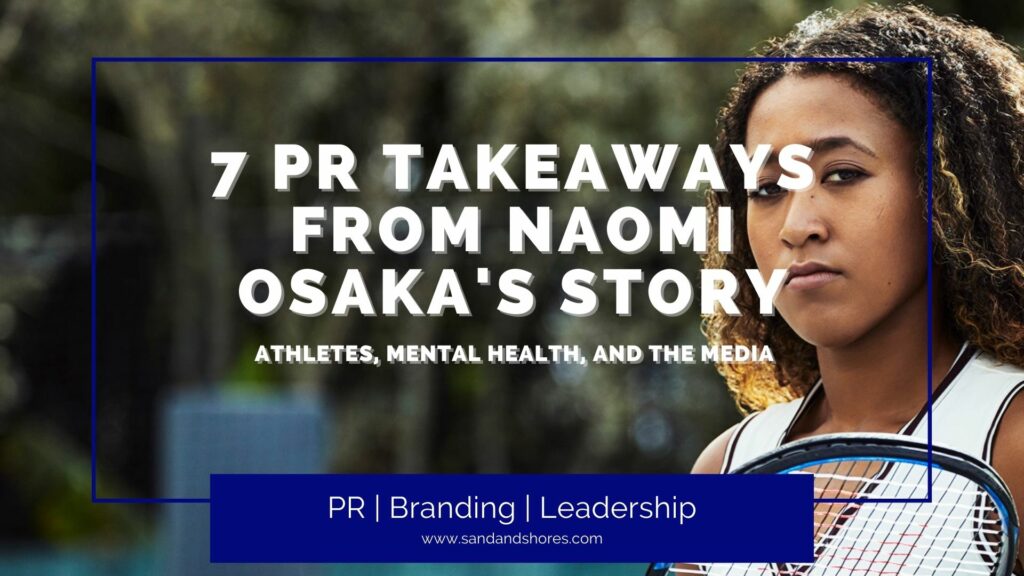 Athletes, Mental Health, and the Media
Unless you have been under a rock, you know that Naomi Osaka dropped out of the French Open and Wimbledon due to mental health issues. I would have never thought that were would have been so much negative commentary about this. The drama started when she refused to do a post-match press conference and was penalized and scolded. One of the world's youngest, richest and well-loved athletes revealed that she was struggling with mental health. This young lady in the spotlight rendered herself vulnerable by revealing her personal struggle with depression and did the selfless thing by taking herself out of the tournament, stating that she didn't want to take the focus off of the tournament.
Instead of being supportive, uplifting, or even neutral, the media and many in the spotlight decided to try to shame Naomi. Instead of offering comfort, humanity, or showing grace, people like Piers Morgan and Candice Owens decided to try to humiliate, mock, and bully her.
It is not lost on anybody that Ms. Osaka is Japanese and Haitian, looks black, and has shown support for the Black Lives Matter movement. Black athletes are often on the receiving end of insults and useless criticism when they have injuries, personal issues, or athletic struggles, never even attempting to understand the entirety of the problem. A large portion of our population seems to find it hard to believe that somebody that has achieved such greatness can suffer from depression. HIGH-FUNCTIONING DEPRESSION is a thing and unless you have actually taken the time to do the research, you would not know it to be true. For Pierce, Candace, and many more just like them, this type of behavior and reckless speak is on-brand. It plays well to their target audience of deniers and crude agitators.
As public relations and communications professionals, it is important that we take situations like this, learn from them and take what we have discovered to share, educate, and act on our client's best behalf. There are 7 key take-aways for this particular situation that we can use in our practices and we can thank Naomi Osaka for the teachable moment.
Naomi gave brands a layup for social awareness. Every brand needs a component of goodwill. You should champion a cause outside of your product or service. A brand should contribute to something that leaves this world better than they got it. Having laid the foundation in your brand, there should be a pattern of support that you can show for the cause that is embedded in who your brand is and what you stand for.   
Not every white checkmark is worthy of attention. The verified symbol used on social media platforms does not establish intelligence, expertise, or even knowledge of the subject that they may be speaking or tweeting about. It only establishes that they are who they told the hosting body that they were. Many times, that checkmark is the only reason that they have the followers that they have, but be clear, it does not verify their ability to process information, empathize, or even articulate a well-thought-out idea.
Forced media is not always a good story. Having celebrities, athletes, and the likes forced to stand in front of a microphone to answer questions may not grant you the kind of news, updates, and follow-up information that you want to write about or dig in on. If answers are not authentic, earnest, honest, and sincere, is it really worth publishing? It behooves journalists to have a working relationship with the talent or their public relations team. Building trust breeds openness and more transparent communication.
Journalists expect the same handout that they will not give PR & Comms pros. PR professionals are charged with having to form relationships with journalists., publications, and the media in order to get what is needed from them, which is coverage and collaboration to expand a brand through storytelling. We have to build those relationships through mutual respect and professionalism. If we don't, many times, a reporter, a writer, a journalist will not pay us any attention, toss our pitches out, and ignore us. Yeah, we still have to keep trying. Why aren't journalists, and reporters charged with having to build relationships with athletes and those that they want to interview? Many of them have proceeded to bash, belittle, and investigate the personal lives of these people that are there for sports and to talk about their athletics, achievement, and failures. How does this even make sense? But because it has been done all these years this way, we continue… Marshawn Lynch once told reporters that he was only there so that he didn't get fined. Deep, thought-provoking stories come from journalists and reporters that have built relationships with their subjects.
High-functioning depression is a thing. High-Functioning Depression is a form of the illness that is not intense enough to noticeably affect the ability to perform daily responsibilities such as work and domestic duties but can persist for years, leading to more functional impairment over time with acute episodes of major depression. Many talented and hyper-productive people live with it. They stay busy, drowning out the symptoms with work, their craft, and other achievements.
The sacrifice is bigger than we share. We must do a better job of telling athletes' stories. No kid starts playing sports with visions of a mic in their face. They start for the love, feed off of the achievement and ever-evolving greatness. Young athletes fall in love with a sport and their ability to reach far beyond expectations. They sacrifice, train, work and grind to keep getting better. A mic being shoved in their face was never the driving force. Most of the time, they carry out their duties well, with no resistance. Give them grace. You don't know what else is going on with them outside of their sport. The next time an athlete does not want to be on the mic, even if it's your client, have a little empathy. It's not the job that they signed up for.
PR & Comms pros are responsible for reputation management and must do a better job telling the stories of the athletes that we represent. We have to dig deeper when it comes to mental health and our clients. It's our job to share the stories that show strength, resilience, and overcoming struggle, not just athletic accomplishments. Vulnerability and reflection are a great way to show depth and control the narrative. There is no reason to present your talent as if they are impenetrable. Humanize our champions in a way that one can celebrate them, support them and allow for their wounds to show without being maligned.  Talking about the causes that they champion and work that they have done outside of the game with compassion and connection triggers human correlation is most of us.  
As a sports mom, former athlete, and coach of young people, I can tell you that 100% of those that become elite athletes do so for the love of the game, not for the love of the press. To be an elite athlete, you have to make sacrifices and put your entire mind, body, and spirit on the line. I don't know any young person that started the journey with anything other than being better than the day before on their mind.  Every summer, every camp, every opportunity, through training and practice, they give it their all to be the best at what they do. From youth sports through those teen years, while most young people are partying, enjoying freedom, these kids are giving up all of those things that the majority of us take for granted. Once you make it to the pros, to even be in the position of competing on the highest level, you have to agree to do things outside of your sport. You have to agree to do things that you might be uncomfortable doing. The detest of the press, fear of the press, or even anxiety with the press is a byproduct of the forced interactions, insulting comments, unfamiliar faces, and sometimes unresolved mental issues. Like any relationship, the interactions between athletes and press/journalists can be improved. It's in the best interest of all parties to take a step back and see how they can do better.

athlete high functioning long term depression mental health naomi osaka public relations reputation management sports media storytelling