LIFE AFTER THE DOWN LOW by Ingrid M. Ellis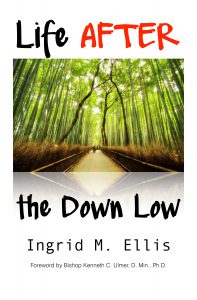 Getting to know Ingrid and her story was jaw-dropping. The Life After the Down Low takes you for a ride that you believe will end happily ever after and takes a turn to the worst place possible.  The passage that she reads, about the moments walking down the aisle and the tears that he shed, later acknowledging that those tears were his farewell to the secret life of pedophilia and desire to be with men instead of this one woman came to life.
Book Title & Synopsis
Life After the Down Low
This book chronicles the trauma of a wife deceived by her husband who lived a secret double life of a traditional spouse and homosexual man that posed as a youth pastor and would later be found out to have had sex with countless men and then be accused of violating the lives of innocent young boys.
About the Author
Ingrid M. Ellis was born in Jamaica Queens and would eventually locate to California with her family in the 80's.    She attended Cal State University, Long Beach and began a career with the Department of Children & Family Services. Her first book is entitled Dare to Dream Ambrosia, the first of her children's book series. Currently a resident of Los Angeles County with her son Noah and member of Sigma Gamma Rho Sorority, Ms. Ellis is looking to release another work of art soon.
If you have ever been surprised by life and greatly disappointed, this book serves as a great motivation for next steps and how to move forward.
You can follow Ingrid on twitter @ingridmellis
Check out her website and purchase the book at  www.TheLandofEllis.com
adultry author book homosexual marketing pedophlia podcast pr public relations trauma