SLEEPING WITH MY SHOES ON by L.J. Jackson
I CAN'T MAKE THIS STUFF UP 
presents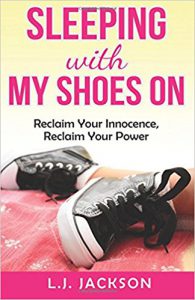 It was a pleasure to have the opportunity to speak with Ms. Jackson about her life-changing book. The passage that she reads, about those moments that she thought she was about to breath her last breath is powerful. "Get up, the house is on fire!" my mom yelled. What?  How could I have not smelled the smoke…
Book Title & Synopsis
Sleeping with My Shoes On: Reclaim Your Innocence, Reclaim Your Power
This quick, bite-sized juicy read is perfect to help you accept yourself completely, and understand your past meaningfully.  It's also great for anyone who feels their childhood innocence was stripped away and is ready to reclaim their power. As the author weaves her heartfelt personal memories of the loss of her childhood innocence along with vital wisdom as an expert.  Reclaim Your Innocence, Reclaim Your Power!
About the Author
L.J. Jackson is the Harriet Tubman of dreams, with a proven track record of restoring hope to the hearts of 1000's for more than 20 years. She is a coach, mentor, and speaker with a passion to help those who've experienced living from day to day in a: neighborhood, family, or country that's kept them guarded or unable to rest easy and sleep peacefully at night. Thus prompting her to write this book.
College students, young adults, and adults in their prime can all benefit from this book.
You can follow L.J. Jackson on twitter @ms_LJJackson1
Check out her website at  www.personalpowerwithin.com
Purchase the book on Amazon at https://www.amazon.com/Sleeping-my-Shoes-L-J-Jackson/dp/1945949317
"Because we all go through the fires of life…", L.J. Jackson
author book college consultant death media nonfiction partying podcast pr press public relations selfhelp