Two Redondo Union Athletes Receive Inaugural Ryse Williams Foundation Scholarships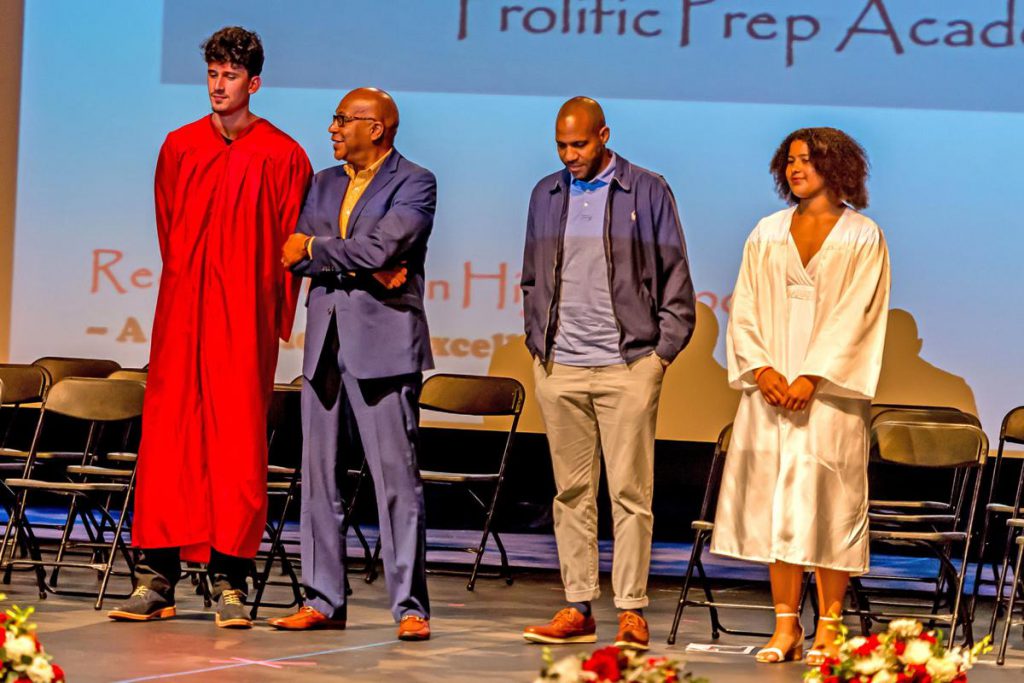 Original Article – June 26, 2018 
Quinn Collins and Ashlynn Autrey are the first to receive the Ryse Williams Charitable Foundation Scholarships, awarded at a recent ceremony at Redondo Union High School.
It has been a year since Redondo Union senior Ryse Williams suddenly passed away right before graduation due to renal medullary carcinoma. Williams was a high-level basketball player and was offered a scholarship from Loyola Marymount University to play the sport there.
Suddenly he was gone and his loss has left an impact on many, especially his family.
O'Brey Williams, Ryse's father, said he was inspired to start the Ryse Williams Charitable Foundation, Inc. to promote amateur athletics.
"He loved the school, he loved his teammates, he loved his Redondo family. And you guys have shown us a lot of love," said O'Brey at the ceremony.
"I know I'm gonna read about you guys," he said indicating Collins and Autrey. "And I know Ryse would be very proud and to see you guys are doing well."
The foundation plans to distribute a $1,000 scholarship annually to one male and one female athlete from Redondo Union. They do not have to be basketball players.
"The loss of this player, friend, student, son and leader, is immeasurable," said Tonya McKenzie, who is helping spread the word of the foundation.
Collins, this year's male award winner, played basketball with Ryse last season. This past season, Collins was a key player.
"This award means a lot," Collins said. "I'm just grateful to receive the first ever Ryse Williams Award. It's just a blessing. I'm so happy."
The female recipient, Autrey, was a senior and a key contributor to this year's first state championship girls basketball team in Redondo Union history.
"It means so much to get this scholarship because Ryse was such an inspiration to all of us basketball players and it also has an impact on our team and we break every huddle now with Ryse Up in his honor," Autrey said. "And we just try to emulate him in every way and we feel we won the state championship with him even though we all didn't know him so well."
There were some great follow-up activities for the recipients. Jordan Brand was sponsoring a table for the Ryse Williams Charitable Foundation at the Cedars-Sinai Sports Spectacular and they got a chance to sit at that table.
In addition to the scholarships, the foundation will be involved with contributions towards research.
"Not only will it keep the memory of this amazing human alive, it will actively fundraise to contribute to the research for a cure for this rare and aggressive form of kidney cancer," McKenzie said.
The foundation was part of the Senior Scholarship Awards Celebration.
It was a very emotional event with former Redondo Union boys' basketball head coach Reggie Morris in attendance.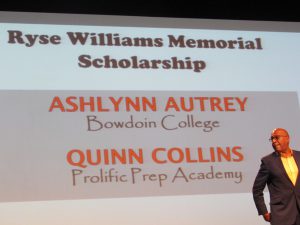 "Because Ryse was such an adored figure in the Southland, those that he has touched and yet to touch will be able to keep his legacy alive through some of the great work that the Ryse Williams Foundation will be doing," McKenzie said. "Redondo Union will always be a part of this legacy, no matter where it takes us."
For more information, visit the foundation's website at https://www.ryseupnow.org/.
The Redondo Beach Educational Foundation also awarded a $1,000 memorial scholarship in Ryse Williams name to Joseph Shy.
#RMC Ashlynn Autrey basketball cancer charity college donation foundation fundraising legacy Quinn Collins Redondo Union Ryse Williams scholarship