Benefits That Employers Can Offer to Their Workers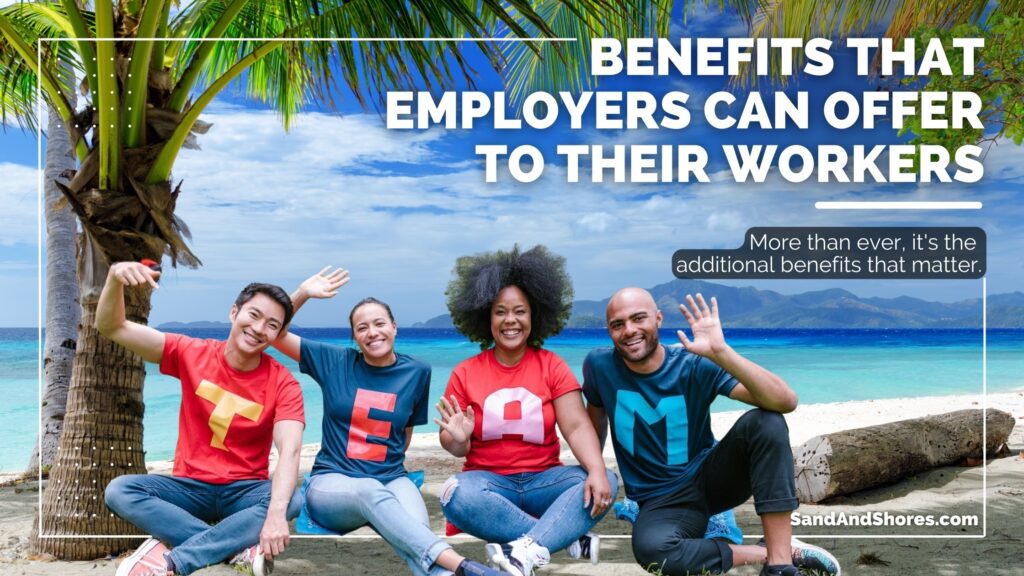 by Lauren McGee
In today's fast-paced work environment, an employer that offers unique benefits has a great advantage when it comes to attracting and retaining top employees. In fact, the way that you treat your employees can actually become part of your brand. When you develop a reputation for caring about your employees, it won't take long for you to attract top-tier talent who want that same level of respect. So, not only do benefits help your workers, but it helps build your brand as well.
The mark of a good business leader is one that will fight for and improve their team. Offering great benefits is part of that fight. That's good for businesses and employees alike. So, here are some suggestions to help you fill your business with the best talent out there — and keep it that way.
1. Paid Time Off
For a variety of reasons, fewer businesses (particularly small businesses) are able to offer employees the same benefits packages they received in the past. However, companies can still find innovative ways to give employees perks.
One option is to offer paid time off, or paid vacation time. Giving employees time to rest and recharge can help them refresh and rejuvenate away from work. Some companies may even choose to invest in a timeshare or other retreat for the specific purpose of giving vacationing employees a great place to take a break.
2. Gym Memberships, Yoga Classes, and Other Physical Perks
Offering employees access to wellness opportunities and classes can be great on a few levels. On the one hand, as another benefit to employment, it helps to highlight why your company is a great place to work. It can also help in the workplace; effective wellness programs can boost employee morale, help develop employees' emotional and physical capabilities, and ultimately contribute to making employees as productive as possible when in the workplace.
3. Mental Health Services
As a complement to other wellness benefits, providing mental health services to employees can be enormously effective in attracting and retaining a highly capable staff. Beyond demonstrating a real commitment to employees' well-being, counseling can help combat burnout, fatigue, depression, and other mental health ailments. By working with online and remote mental health practitioners, companies can allow employees to have easy access to counselors from anywhere.
4. Remote Work Opportunities
The increasing prevalence of remote work offers another avenue for employers to navigate their relationship with their employees. Offering even partially remote work opportunities can be a major perk for workers, as it allows them to not only do their jobs from the comfort of their own home, but to potentially attend to home-based duties — like taking care of children — more effectively without needing to take time off.
Companies are gaining a deeper knowledge of what remote work looks like and how employees feel about it. Adopting an even partially remote schedule can also reduce overhead costs for companies, such as office rent, supplies, and other in-person costs.
Additionally, a great way to invest in your employees is by offering them a home office stipend and allowing remote workers to spend the money as they see fit. In addition to boosting employee morale and efficiency, this has the added benefit of allowing employees to raise their own home appraisal values by adding valuable office renovations.
Investing in tools that enable remote work for your employees such as cloud-based construction bookkeeping software, for example, is a wise decision. Not only will your employees appreciate the new tools, but moving away from an office structure can save you money.
5. Educational Offerings
Business experts recommend that offering continuing education opportunities to workers can be essential in making employees happy, strengthening their teams, and retaining quality staff. A company that offers continuing education financing can seriously make a difference in an employee's life — and better yet, that added education can ultimately be considered an investment in the business itself. An employee in an IT role, for instance, will benefit from continuing education to keep up with such a dynamic industry. More highly educated workers not only may show more job satisfaction but also can be promoted to more advanced positions.
Part-time online courses are an effective way to offer education as they allow employees to learn on their own time, from the comfort of their homes, while still remaining employed full time.
There are many ways employers can demonstrate their attractiveness to employees while simultaneously investing in and strengthening their teams and building their companies. Coming up with out-of-the-box benefits and perks to offer is a great way to get started. For more information on this, contact Lauren McGee.
Tonya McKenzie is committed to helping organizations, communities, businesses, and individuals master their message and increase awareness for better results through storytelling and branding. For more information, please visit her website or contact her today!
company culture employee benefits fitness mental health mental wellness paid time off