7 PR Communities to Join in 2022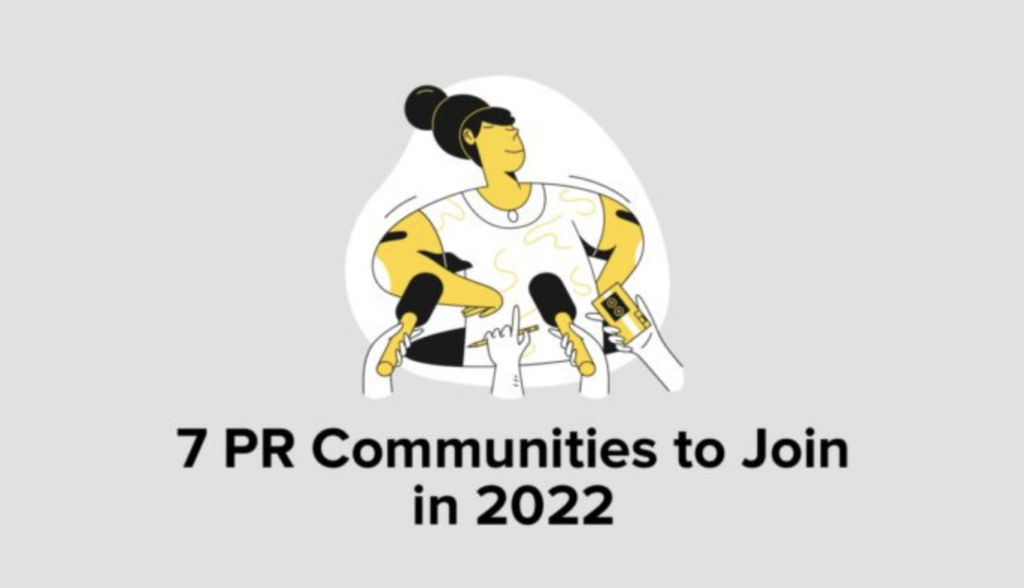 Original Article – by Jared Martin
Being part of a community is critical to our well-being. Whether that be a personal community or a business one, the feeling of belonging and the support communities provide has lasting impacts on individuals.
Like many industries, public relations is a tight-knit community of professionals many of whom interact with one another at virtual events, on Twitter, and occasionally in real life. We took to Twitter to ask our community of PRos where they belong and what PR communities others should consider being part of.
Read below for 7 PR communities you need to join in 2022.Table of Contents1 National Black Public Relations Society2 Hispanic Public Relations Association3 Respect the Publicist4 #PRLunchHour5 #PRTwitter6 Spin Sucks7 Public Relations Society of America
National Black Public Relations Society
Also known as the NBPRS, the National Black Public Relations Society was founded in 1998. The goal of the organization is rooted in advocating for more back professionals within the media industry. As the website states:
"Run by professionals for professionals, NBPRS addresses the diverse needs of its members through programs and partnerships that provide cultural and competitive advantages."
NBPRS offers members peer-to-peer support, mentorships, networking opportunities, job postings, and career advancement opportunities. With 8 chapters and growing, the organization has over 400 members throughout the United States including Atlanta, Chicago, Detroit, and Philadelphia.
Hispanic Public Relations Association
The network of Hispanic professionals also known as the HPRA was started in 1984. Founded by David Garcia, the organization's mission is:
"…to advance the practice of Hispanic public relations as a marketing discipline; to serve as the voice for professionals working in the Hispanic communications field nationwide; to empower its members through support, resources and education; and to offer guidance and assistance to students pursuing careers in the field."
The organization offers scholarships to 5 students of Hispanic descent living in the Los Angeles area for a total of $1,000 each. The goal is to allow students who want to pursue a career in PR to achieve their educational goals as well as receive introductions to leading agencies that are part of the HPRA network.
Respect the Publicist
Started by Candice Nicole, CEO of CNPR, Respect the Publicist has numerous locations one can become involved with. From the private Facebook group to her fireside chats on Clubhouse, the community acts as a catalyst for new and established publicists.
As the Facebook page, with over 2100 members states:
"This will be the ultimate destination for encouragement, to ask those certain "I'm not too sure" questions and of course SUPPORT."
#PRLunchHour
This weekly Twitter chat is one of the most active we've found within the public relations space. Attendees gather from all walks of life across the globe to share wins, pain points and meet with others to build a sense of togetherness.
The #PRLunchHour chat is hosted by Tonya McKenzie, Tamara Sykes, and Michelle Garrett all of whom have built thriving careers in public relations and worked on behalf of clients ranging from law firms to technology companies to nonprofit organizations.
#PRTwitter
The second community on this list isn't as organized as the one above, however, it's still worth noting how important it is to follow along. The #PRtwitter hashtag includes a ton of information from PRos in the industry sharing advice, strategies and tactics, and wins worth bragging about.
Spin Sucks
Led by Gini Dietrich, the Spin Sucks community and Slack group have tons of information and resources for PR and communications professionals. Gini, the originator of the PESO model, and her community of PRos offer up group discussions, career opportunities, and advice for public relations pros at any stage.
She also posts regularly on the Spin Sucks blog, hosts a weekly podcast, and recently introduced a weekly AMA video series.
Public Relations Society of America
The Public Relations Society of America, also known as PRSA, is one of the longest-running communities within the public relations space. With over 30,000 members scattered throughout the United States and 100+ chapters, it's one of the most trusted communities by both PR professionals and students through the PRSSA program.
Aside from being a chapter member, the PRSA community provides numerous opportunities and resources for professional advancement. These range from accreditations and certifications to conferences and awards.
________
Many of the PR communities above are located within the United States, however, their goal is one in the same: to be a resource for those who are seeking support, guidance, and education.
Are there any other PR communities you'd like to add to this list? Drop us a note on Twitter and tag the other communities you wanted to see on this list.
Jered is the co-founder, COO and support manager at OnePitch. He handles operations for OnePitch; along with strategy, support, business development and hiring. He studied Communications with an emphasis in marketing at Cal State University Long Beach. In his free time, he enjoys surfing, eating cheap street food, cooking, and exploring the outdoors.TwitterLinkedIn
#PRLunchHour experts OnePitch public relations publicist Spin Sucks storytelling