Public Relations for Your Podcast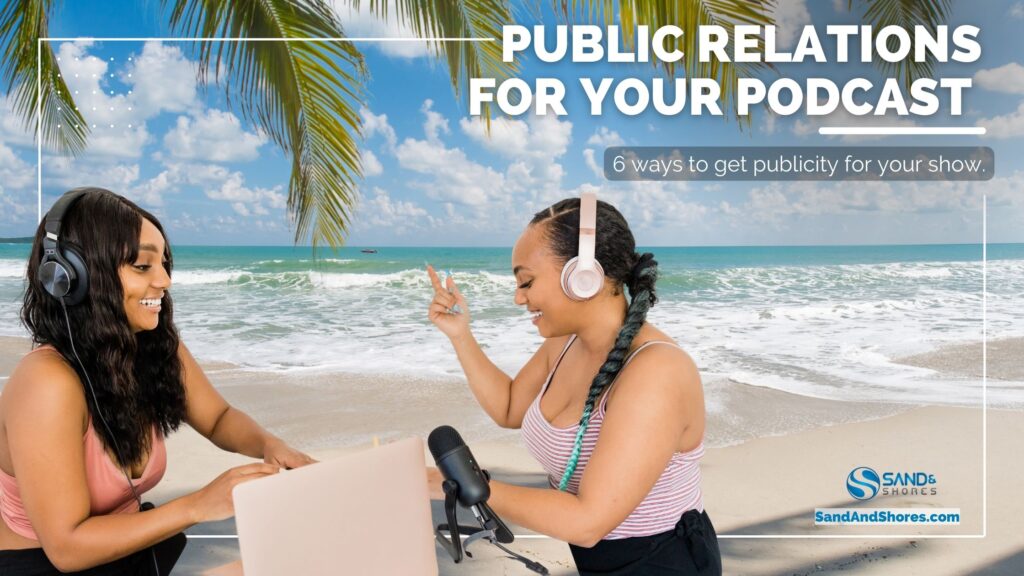 by Tonya McKenzie
6 Ways to Get PR for Your Podcast
Most people use their podcasts to get clients or to get PR. However, if you have a podcast, the goal is to get listeners and have the listenership/viewership grow by telling others about the show, the content, and the guests. The more people that know about your podcast, the more people download and listen to your episodes. This is a form is public relations. It's a practice that embodies so many different elements. First, you must know who your target audience is to focus your efforts. Marketing is YOU telling people how amazing your podcast is. PR is listeners and subscribers sharing and telling other people how amazing your podcast is, sharing something specific about the content, and even sharing things about you as the host. It's the art of the 3rd party endorsement. I am sharing 6 of the best PR strategies for growing your podcasts.
Mention brands, other podcasts, and partners in your broadcast and in the captions. Make sure that you tag them on whichever platform you publish to. It needs to be authentic and make sense. Create space and time to do this. When you mention others, it's easy for them to also mention you, and your show, along with sharing with their network.
Reviews – Share reviews from viewers and guests. They are key to increasing your reach. Tag them and thank them for their time. Again, it's not you telling the public how good the show is, it's others that have experienced your professionalism, style, and ability to capture their attention sharing their experience and thoughts about you and the show.
Guest on other people's show. It displays your credibility. You get to talk about your expertise on your show. The host has an audience that will become familiar with who you are while you expand your audience and bring new listeners and viewers to your platform. Know the timing and flow of the conversation to ensure that you can slip in the takeaways that are important to you.
Blog, before or after the show. It's one thing to have a great show but understand that the audience is there for you. There's something about you that they like. Your blog is an opportunity to get your audience ready for the show, for the guest, or to share your thoughts about the interview. This is how you develop a deeper commitment from your subscribers. Personal connection is everything.
Have a visual element published. Spotify and iTunes, both have visual elements for their podcast subscribers. When you view podcasts from the app, you get to watch them like any other stream. If those two things don't work for you, there's always YouTube. Putting a name to a face, seeing expressions on faces during conversations, and just watching guest and hosts interact, makes the show more dynamic. It makes you more identifiable. It builds your brand awareness.
Be timely. Even though you have your regular publishing schedule, when things come up in life that is important to your audience, hot topics that seem to be on everyone's mind, social issues that are provocative and stirring conversation, you have the opportunity to optimize in those moments. Fire up a podcast episode. Bring on a guest that can speak to the issue and make it happen. Publish and share it everywhere. It's one of the most effective ways to build your audience and increase your PR effort.
Honestly, I can give you almost 100 ways to get coverage for your podcast. You can do a press release, write an article about a subject covered in the talk, pitch your pod to partner with an organization that aligns with your subject matter… so many ways. However, one of the most important things to do in public relations, marketing, and communications is to stay ready. Take the time now to get your digital assets ready to be used at a moment's notice. Do you have a media kit for your podcast? Do you have a one-sheet for yourself to be pitched to be on other people's podcasts? Do you have rates and opportunities for brands that want to sponsor and come to you to partner? It's one thing to launch and have a podcast. It's another thing to grow and increase brand awareness for a podcast. The more you grow it, the better a vessel it is for the information that you were trying to put out into the world. Take the time. Do the work. And watch it flourish.
For more ways to grow brand awareness for your podcast and get positive PR coverage, see me. Make some time to get it all the way together. MAKE AN APPOINTMENT

blogging credibility interviews media podcaster public relations publicity for podcasts sand and shores tonya mckenzie