BLACK PUBLIC RELATIONS SOCIETY OF LOS ANGELES ANNOUNCES THE 2020 BOARD OF DIRECTORS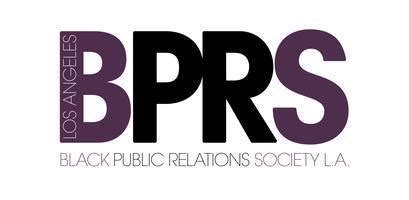 New Board Members from OpenTable, MWWPR, ViacomCBS, Kaiser, USC, and More
FOR IMMEDIATE RELEASE
LOS ANGELES, CA (February 4, 2020) – The Los Angeles Chapter of the Black Public Relations Society (BPRS-LA) proudly announced the appointment of eight new members to its 2020 Board of Directors. The new board members come from diverse backgrounds and are committed to helping drive the organization's mission to increase the profile of Black and African American communications professionals in the Los Angeles market and public relations industry.
Joining the dynamic BPRS-LA Board of Directors are Marissa Wallace, account supervisor at MWWPR; Ty Washington, managing partner at Wave Tech Media; Dominique Franklin, IT communications lead at Kaiser; Tonya McKenzie, founder of Sand & Shores Communications; Eddie Rhodman, Jr. president of Rhodman Enterprises; Danielle Erves, owner and founder at Erves Consulting; Jennifer Payne, communications strategist of Social Sovereign; and Keesha Wallace, communications specialist at USC.
"We are excited to welcome our newest board members as they have a wealth of experience and fresh perspectives that will bring us closer to achieving our organizational goals," said Latashia DeVeaux, newly-elected president, BPRS-LA. "They are champions of inclusion in the communications industry who will provide diverse views and expertise that will further our collective work at Black Public Relations Society, Los Angeles."
Entering its 22nd year, BPRS-LA promotes and encourages inclusion while focusing on professional development and connecting diverse professionals throughout Southern California. The organization is comprised of corporate, studio, network, agency, and independent communications professionals across public relations, marketing, technology/digital, public affairs, human resources, and more.
For more information about BPRS-LA, visit us at www.bprsla.org or follow us on Facebook, Instagram and Twitter @bprsla, and LinkedIn www.LinkedIn.com/company/bprsla.
ABOUT BLACK PUBLIC RELATIONS SOCIETY OF LOS ANGELES Black Public Relations Society of Los Angeles (BPRS-LA), founded in 1998, is an affiliate of National Black Public Relations Society (NBPRS), one of the nation's oldest and influential professional organizations for individuals in the communications fields. Our diverse talent pool of members are powerhouses in public and private sectors, agency and independent practices, entertainment and entertainment-adjacent industries, and educators as well as students in higher education. BPRS-LA embodies the mission of NBPRS to advocate on behalf of Black/African American and professionals representing the Diaspora working and surrounding Southern California.
Media Contacts: Dominique Franklin Vice President, PR & Marketing, BPRS-LA Black Public Relations Society, Los Angeles | (951) 897-4647 | bprslamedia@gmail.com
Latashia DeVeaux, MBA, President, Black Public Relations Society, Los Angeles | (818) 823-4418 | latashia@deveauxted.net
african americans arts board of directors bprsla communications entertainment executive board Los Angeles politics public relations