COACH OR CONSULTANT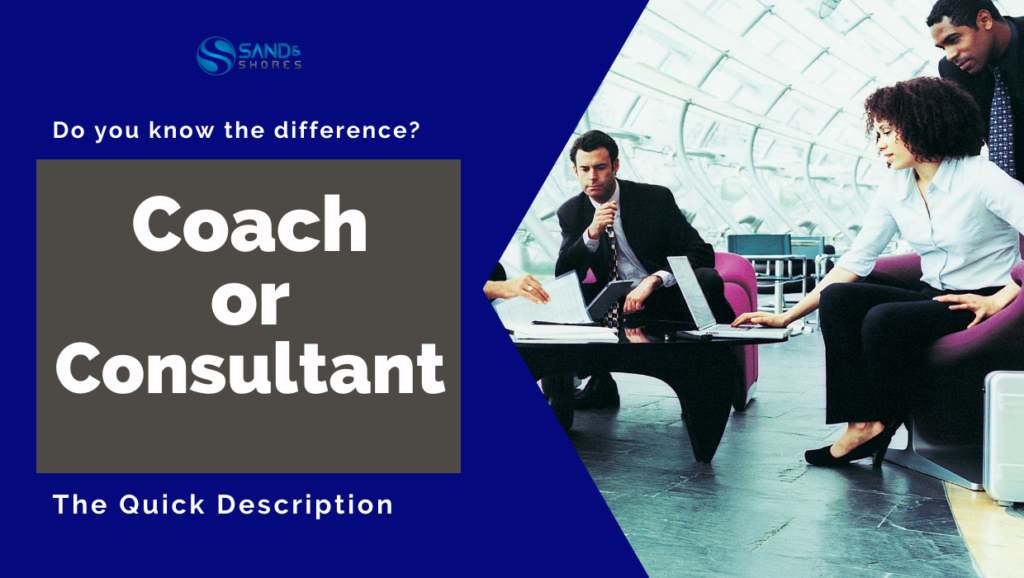 by Tonya McKenzie
In 2019, there was 709,750 management consultants in the United States. IBIS World recently stated that Business Coaches has reached over 76,000 in the U.S.with that number rapidly increasing. Covid and the push to work from home has contributed greatly to the rise in coaches. For the business owner, executive, or business leader, how do you decide if you need a coach or a consultant? Many people believe that they are all the same. And that is simply not true. Without slighting wither profession, let me help you understand the difference between a coach and a consultant. For those of you seeking assistance growing your business, tapping into your greatness, needing weight loss motivation and guidance, or know that you need help but not sure what you need help with to get your professional or personal life together, you should at least know the difference between a consultant and a coach. They are not the same.
A consultant helps you, or your team get on pace to obtain your goals, hit your targets and move the needs forward with your business or whatever they are consulting about. Consulting is about getting result. It's about doing the work with you or for you to get the change and/or outcome you desire. Consultants spend time studying you, your business, or your team to learn what you or the team is doing or not doing to obtain your goals and benchmarks. A plan or strategy is then drawn up to get the wheels in motion. Many times, the consultant does the work or at least a portion of the work that you or your team might do yourself if you had the time, resources or talent. Consultants have an expertise you or your team may be lacking. They also work with you regarding customer acquisition, retention, systems, packaging of services, pricing, sales and marketing! They support a project or initiative with their specific expertise and when the project is done, they move onto the next company or project. Consultant can be retained for long-term or short-term projects. So, it goes without saying that a timeline is important. Even if you have to extend or shorten it, there is an expectation set as to approximately how long the project will take. Consultants generally are not concerned with changing mindset or behaviors. They roll up their sleeves and do what's needed to get an intended outcome.
Coaches operate from a different lense. Instead of doing the research on a company or individual, a coach asks a lot of questions of the organizational leaders or individual. The coach goes where the consultant generally won't, into the mind of those involved. They want to change the method of thinking and how information and emotions are processed along with the actions that follow. In simple terms, they bring a different approach or methodology. As a strategic coach, they help people and teams who are amazing strategist, but they have become stuck because they can't see why their strategy is not delivering the results they expect and need. A coach doesn't do the actual work to change an outcome, they help you see how your thinking, approach or methodology is not working. They identify and help to illiminate limiting beliefs, fear and self sabotage. It's the actually coach that you see in the dugout or on the sidelines. They are not in the game with you but they are seeing your moves with objective eyes to give you feedback on how you can do it better while being your biggest cheerleader. Coaches are helping you see better ways to do things so you can adjust what you or your team is doing to get the desired results. Patterns is about 85 percent of your decision-making. It's in your subconscious. A coach helps you identify the faulty and unproductive patterns that are holding back and keeping your success at bay. Although the coach does not do the work for you, they help your insight and prescribe adjustments that lead to a higher level of success.
In the end, you have to decide what you need, what's holding you back from complete success. Is it your mindset and faulty patterns of functioning or is it a skill or expertise that you just do not have?

brand awareness business development business owners coaching consultant entrepreneur life coach talent