Public Relations for Your Events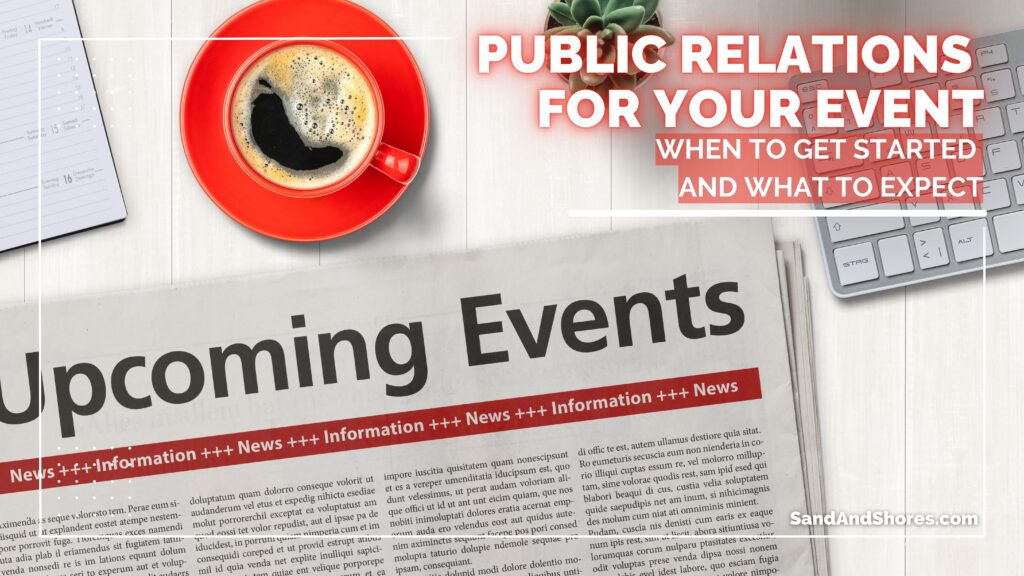 Without question, your upcoming events will need public relations to ensure maximum success. The question is, how much and what kind of public relations and media outreach will you need? Will it be hyper-local, local, regional, national, or international? Depending on those factors, the amount of time may vary a little, but not much. However, the rule of thumb is always, the sooner you start, the more likely you are to achieve your PR goals.
How much time should you allocate for PR and when should you contact a PR professional?
The ideal amount of time to start public relations efforts before an event depends on several factors, including the size and complexity of the event, the target audience, and the desired media coverage. However, as a general rule of thumb, it is best to start PR efforts at least six months before the event. This will give you enough time to develop a comprehensive PR strategy, build relationships with key media contacts, and generate excitement about the event.
Here is a more detailed breakdown of how much time you should allocate for each stage of the PR process:
Develop a PR Strategy: 6 months – Hire a PR professional. Communicate your vision and goals. Let them map out the path to success. This should include your target audience, messaging, and tactics.
Create press materials: 5 months – This could include a press release, media kit, and fact sheet.
Relationship building: 4-6 months – Start reaching out to the target journalists and media contacts. She what they are up to, what they are working on, and ask how you can help or contribute. Also, let them know what you have coming up to see if there is any interest. Start the conversation. Follow up with appropriate, no-ask responses.
Pitching and outreach: 2-4 months (journalists, bloggers, podcasts, local radio, community media, local TV stations
Follow up with media contacts: 2 months – Make sure they have all of the information they need to cover your event. This is a good time to start paid advertising.
Event promotion: 1-2 months – Start sending out event invitations: Invite your target audience to your event.
Send out a reminder to media contacts: 2-3 weeks – Let them know that the event is coming up and that you are still available for interviews.
Send out a final reminder to media contacts: 1 Week – Make sure they know all of the details about the event. Post eventPost-event reminders on social media. Keep your audience updated on the event.
Day of the event: Monitor social media handles. Respond to any questions or comments about your event.
Immediately after the event: Issue a press release. Recap the event and include any key highlights and pictures.
Post-event follow-up: 1-2 weeks afterward – Meet with your team. Talk about what went well, what needed improvements, and start making plans for the next event.
This is simply a suggested guideline. Understand that engaging a public relations professional early in the process is essential to the success of the event. Have a good idea of what you would like to see as the result and be able to communicate your vision. A good PR pro will give you realistic expectations and work with you to achieve your goals. Happy event planning.
Click to schedule an intro intro meeting.
Click to book and schedule a strategy session.

brand awareness branding event planning event timeline marketing media media relations pr public relations sand and shores storytelling